Product Image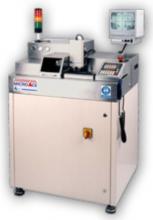 The MicroAce series 3 provides a complete micro-dicing solution for the precision dicing, scribing and grinding needs of the Electronic/ Semiconductor industry. It is capable of processing a wide range of materials including Silicon, Ferrite, Glass, Germanium, PZT and Sapphire up to 6 inch/152 mm in diameter.
The MicroAce series 3 is available "rebuilt-as-new" through our machine reconditioning program. Each one is stripped, rebuilt and calibrated in the factory where they were first manufactured, parts are replaced as required - normally 60% approx. in total - providing an extremely high quality machine.
Powered with custom-built air-bearing dicing spindle.
Proven high reliability and long lifespan.
Rigid structure ensures high accuracy and consistent performance in both volume production and R&D environments.
Available with optional PC data entry and storage.
MicroAce series 3 rebuilt-as-new is very competitively priced