Custom Wafer Edge Grinding Services
MPE, Inc. operates multiple types of wafer edge grinding systems. These systems create a rounded and beveled edge profile in silicon wafers or other crystalline materials. A rounded and beveled edge is a requirement for all semiconductor wafers to increase the durability of the brittle wafer's edge which is prone to chipping if left sharp.
Edge Grinding Applications
MPE performs edge grinding on all downsized wafers produced by MPE's wafer resizing (coring) process. An R-type profile, optimized for the wafer thickness, is ground into all edges of the wafer as a standard feature of MPE's resizing service.
MPE can also perform edge grinding on wafers which have been cored by an outside service. Laser coring, waterjet, and dicing saw coring will all create wafers with straight edges and sharp corners. The wafers can be sent to MPE after coring to create a rounded or beveled edge profile.
MPE's edge grinding equipment can be used to round edges of wafers after ingot slicing.
Small wafer diameter changes (i.e. from 101.6mm to 100.0mm) can be accomplished on MPE's wafer edge grind systems.
MPE's edge grind systems may be able to remove pre-existing damage from wafer edges. However, some diameter reduction may be necessary.
MPE can bevel or round a sharp edge created on one side of a wafer after a thinning process.
Capabilities
Equipment is available for wafer diameters ranging from 2" (50mm) to 8" (200mm).
Edge grinding can be performed on either bare or fully processed silicon or SOI wafers with devices.
Materials other than silicon or SOI can also be processed on edge grinding equipment upon request (GaAs, GaSb, glass, and more).
Edge profiles typically meet the industry standard SEMI M1 T/3 Template requirement. Other standards can also be met upon request.
Standard R-type tooling is available for wafer thicknesses ranging from 0.012" (0.30mm) to 0.044" (1.10mm). F-type tooling is available for wafer thicknesses ranging from 0.024" (0.60mm) to 0.032" (0.80mm). Other options are also available to accommodate wafers thicker than 1.1mm.
Non-standard wafer diameters may be processed for both silicon wafer edge grinding and for edge grinding other materials.
Edge grinding can be performed on wafer alignment flats of any quantity, length, or orientation.
For any additional questions about our silicon wafer edge grinding and other grinding services, please call us at 1-877-MPE-DICE, contact us via email, or fill out the request a quote form.
The R-type and F-type profiles available from MPE provide a smooth edge with rounded and beveled sections. MPE can adjust the dimensions of the profile to suit a variety of wafer thicknesses.
Industry-Standard Specifications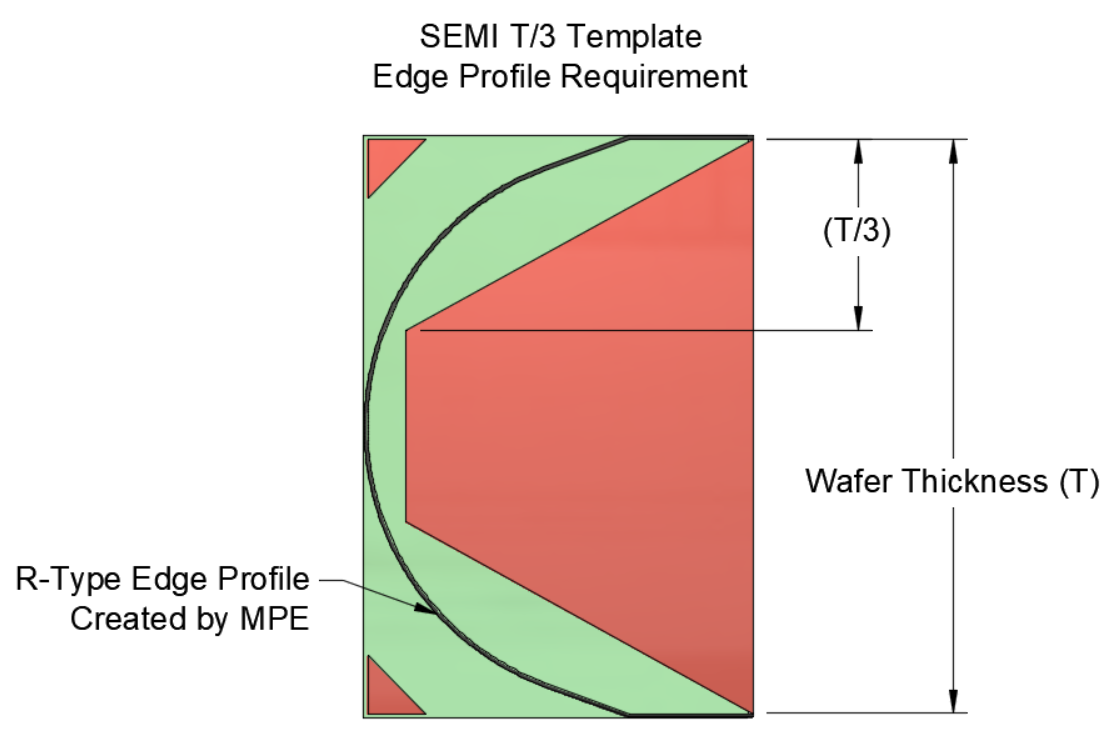 The T/3 template in the industry-standard SEMI M1 specification describes acceptable edge profiles for Si wafers. In the illustration above, the green area represents the allowable zone for the edge outline. MPE's standard edge profiles for wafer resizing services always satisfy the T/3 template.
Pictured above are actual silicon wafers with R-type edge profiles produced by MPE. The wafers were cut into cross sections to better illustrate the edge profiles.