Custom Wafer Dicing Services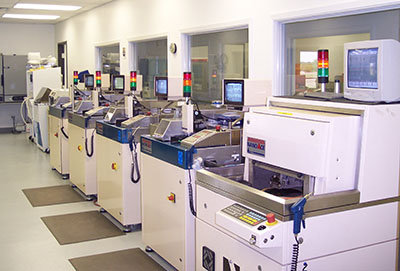 MPE, Inc. takes pride in being a detail-oriented and innovative wafer dicing service provider. The wafer dicing services we provide are also known as wafer cutting, die singulation, mechanical dicing, or mechanical sawing.  
We are committed to providing superior customer service, while utilizing advanced technology and processes. This allows us to decrease the costs to our customers and increase the quality of their product. Each wafer will be diced with specially customized parameters to minimize yield loss. We utilize Loadpoint dicing saws, which have Windows based operating systems, allowing us to easily use techniques such as multi-pass cuts, ramp up table/ feed rates, and plunge cuts. We also keep in stock a variety of blade types, which allow us to process different materials and thicknesses while maintaining cut quality.
We can accept orders ranging from a single wafer or substrate to hundreds of wafers per month. We have experience working with virtually every type of material in the industry including alumina, AlN, GaAs, GaP, GaN (gallium nitride), fused silica, glass, quartz, germanium, SiC, lexan, PZT, sapphire, SOI, and silicon wafers. We have high pressure wash stations that allow us to effectively clean wafers after the dicing process. We also utilize multiple tape vendors to meet our customers' specifications, and our UV exposure capability allows us to cure tape prior to shipping. We also have processes in place to help with staining and undesirable metal plating caused by galvanic erosion or corrosion.
Capabilities
The following are our wafer dicing capabilities:
Process any wafer size up to 300mm
Process material with thicknesses from 0.050mm – 10mm
Kerf widths as thin as 0.020mm
Produce beveled/ chamfered cuts with customer defined angles
Dice bumped and non-bumped wafers
Process trench cuts, entry cuts, plunge cuts, curved cuts, and straight cuts
Expand dicing film after dicing
Use either grip rings or film frames
We can use DI water or re-ionized DI water
We work to have your project turned around as quickly as possible and can process your order with a one day turnaround, if necessary
We have the following ESD preventions in place:
Wrist Straps
Anti-static mats
Ion generators
ESD dicing film
Re-ionized DI water
Low-resistivity dicing solution that is especially suitable for static-sensitive devices
Ionized air guns
For any additional questions about our wafer dicing services, please call us at 1-877-MPE-DICE, contact us via email, or fill out the request a quote form.